Environmental Management System
The Environmental Management System encompasses the organizational structure, planning works, responsibilities, practices, procedures, processes, and resources for developing, implementing, achieving, reviewing, and maintaining the company's environmental policy. We assist companies develop their environmental management systems for self‐ improvement and environmental excellence or for registration to the international quality standards of ISO 14000.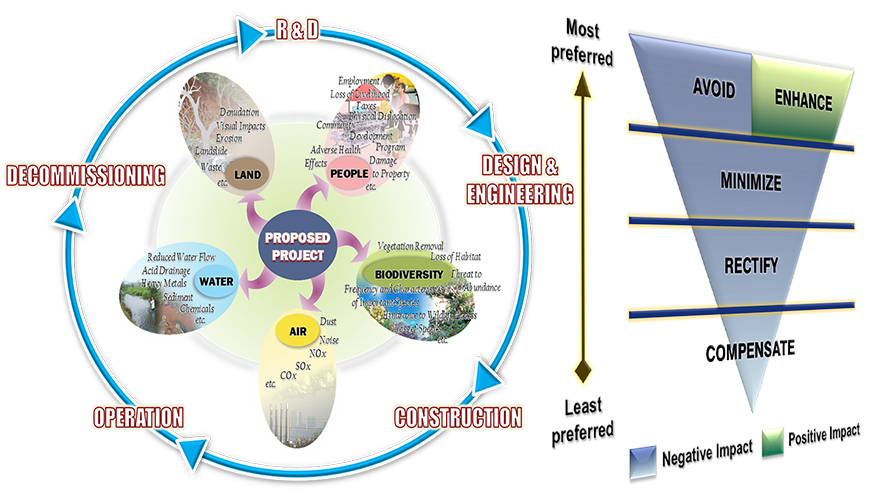 Environmental Management Programs
We craft Environmental Management Programs (EMPs) that seek firstly to enhance the positive impacts of the project.  Social equity and sustainability are the primary considerations.
A sequential approach is taken for the adverse impacts. The EMPs seek firstly to avoid or prevent them from occurring.  For the non-avoidable ones, the Programs will work to minimize them.  For the irreducible impacts, mitigation and management plans will be implemented to satisfy stakeholders' expectations or to comply with environmental quality standards.
The EMPs can address specific requirements of the government.  Alternatively, they are solely for implementation by the company during a specific critical stage such as construction.
BMP can implement the EMPs on behalf of the company.  This is helpful especially when several contractors are engaged as in the construction.
Environmental and Due Diligence Audit
Through environmental audits, we assist clients determine their compliance with legal and other requirements on environmental management.  The evaluation of environmental performance and management practices may also be set against the organization's stated objectives.  The audit may be configured to identify potential environmental liabilities prior to purchase or take-over of a property.  Based on the audit findings, we recommend a remedial or best-practice action plan.
Our environmental auditors are trained and experienced.  They are thoroughly familiar with the audit principles, procedures, and techniques; legal and other requirements; organizational dynamics; environmental aspects of industrial operations; and environmental best management practices.  This makes the audit findings and recommendations comprehensive, relevant, action-oriented, and workable.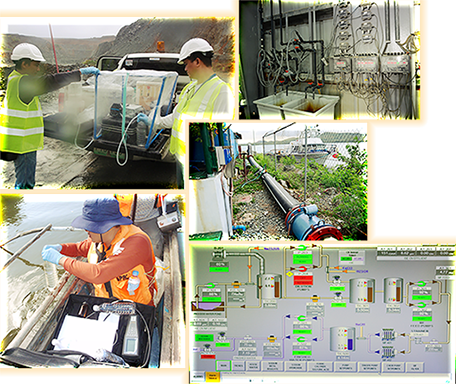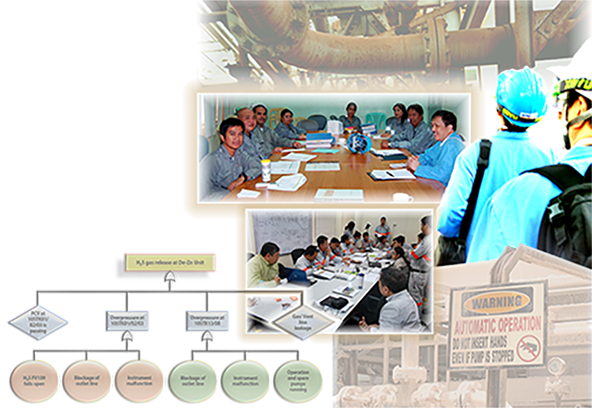 Process Safety Hazards Evaluation
Hazard evaluation underpins the facility's overall process safety management program.  It can be undertaken at various stages of the facility such as R&D, detailed design and construction, operations, expansion or process modification, and decommissioning.
Our hazard evaluation toolbox supports various techniques such as Preliminary Hazard Analysis, Checklist, What-If Analysis, Hazard and Operability Analysis (HAZOP), Failure Modes and Effects Analysis (FMEA), Fault Tree Analysis, and Event Tree Analysis.   We assist the client select the most appropriate and relevant technique.
When implemented properly and followed through successfully, hazard evaluation can minimize accidents, reduce the consequences of accidents that occur, improve emergency response, and enhance government and community relations.  Supplemental benefits are improved staff training and understanding of the process and more efficient operations.